Sail Tahiti: "We want to make the dream of sailing in Polynesia accessible"
If you have always dreamed of French Polynesia without really daring to take the plunge, Sail Tahiti offers a number of services to make your dream come true: brokerage, charter, management-rental, preparation for the big cruise… We asked David Allouch, the company's founder, some questions.
Can you present Sail Tahiti's activities?
""We are the main sailboat distributor in Polynesia, and more widely in the South Pacific islands. We are dealers for most of the Beneteau Group brands but not only. We also have an extensive yacht brokerage business, which is our historical activity, very much focused on blue water yachts. Indeed, for many of our clients who leave for round-the-world or half-world projects, the arrival in Polynesia is very often synonymous with a return to life on land. They then decide to sell their boat. The founding idea behind the creation of our company is the idea that Polynesia can be a very good starting point for a great cruise, an exploration of the Pacific, a world tour… and so this second-hand sale activity consists in making the link between people who stop their trip and those who want to start it."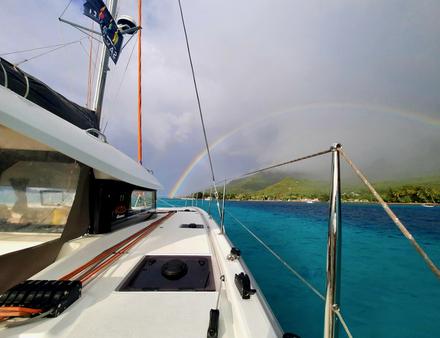 We are the main sailboat distributor in Polynesia, and more widely in the South Pacific Islands © Sail Tahiti
Since the creation of Sail Tahiti in 2015, the company has continued to grow. Can you tell us a little more about it?
"Indeed. In 2022, we were named the best Excess dealer for Asia Pacific. We sell more than Australia or New Zealand! It's a great reward because when we started out, the common perception was that Polynesia was a sailing charter market. We really took the gamble of discovering Polynesia under sail for American, European and Asian sailors… This has developed really well. In 2023, we have sold six new Excess catamarans and we are on the verge of selling 30 to 40 second-hand yachts.
There are six of us in the company, soon to be eight, divided equally between the sales and technical teams, the latter being made up of former members of the Beneteau group in particular, who have settled in Tahiti.
We are continuing our development: in January 2023, we launched our motorboat activity with Beneteau, Four Winns and Wellcraft boats.
Our rental management and charter offers date back to 2021.
All these offers perfectly represent the DNA of the company around the great voyage, we wish to make the dream of sailing in Polynesia accessible."
If I want to start my round-the-world trip from France, can I go through Sail Tahiti to buy my boat?
"In this kind of case, we propose to buy a new boat from France with the shipyards we partner with, and then to sell it on arrival in Tahiti. Sail Tahiti takes care of the marketing, the sale, from the beginning of the project so that on arrival in Polynesia, the boat is sold very quickly."
Do you offer coaching to prepare for the big trip?
""We have a real knowledge of this. With my wife, we sailed from France to Tahiti between 2013 and 2015. We fell in love with Polynesia and it was then that we decided to found Sail Tahiti. I was also lucky enough to deliver an Excess 11 from France to Tahiti in early 2022, so I've sailed that route twice, as well as several transatlantic races. Within the company, we have a real understanding of how to prepare boats for long voyages. We have therefore set up solutions with partners in France to offer a level of boat preparation which is very different from what is normally offered, we do customised work. And indeed we offer support and coaching. Because if some clients are experienced, others are less so, so we will train them or find them a crew. It's a real accompaniment to the sailing project."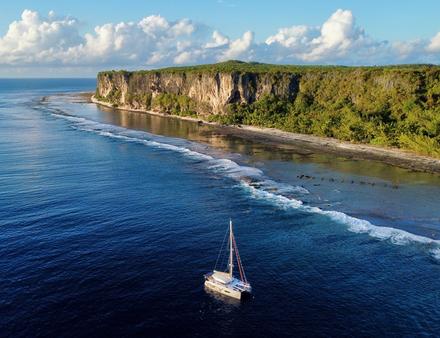 Makatea in the Tuamotu Archipelago© Sail Tahiti
So for a big cruise, your advice would be to buy a boat rather than rent?
""Yes, buy and sell but with a formula to minimise the financial risk. Management leasing is a good solution if clients, once they arrive in Tahiti, want to keep the boat and use it regularly but not all the time. Or we can sell the boat. In this case we know in advance the date of availability, and we are in a context where there is a lot of demand for new or nearly new boats, it is a very strong argument, especially for families who want to sail in Polynesia for several months or years, and who do not want to start with a transatlantic crossing."
Concerning your charter activity, how many boats do you offer for rent?
""We have a fleet of four boats with a fifth on its way from Martinique in 2023, and two more for early 2024. All are owner-operated boats. That's the big difference with most charter companies. We offer boats that belong to private owners and are often very well equipped for the long haul. Not just for weekly rentals. We are based in Tahiti but we offer "circuits" à la carte: in the Tuamotus, the Leeward Islands, the Marquesas… we can do itineraries that are off the beaten track.
We don't do daily rentals, but quite often for three days, or up to two or three months. The three days of sailing are often booked by airline pilots on a stopover! This could be a trip to the Tahitian peninsula, which is certainly one of the least known and yet one of the most beautiful places in Polynesia, or to Moorea, where there are still hidden and absolutely magnificent places.
You should know that Polynesia is huge, it is the size of Europe, with 118 islands, most of them uninhabited. There is very little tourism: 240,000 tourists per year. That's the number of tourists in Phuket in a week… It's a very unspoilt destination, especially as 90% of tourists go to Bora Bora. Everything else is very little visited and completely unexplored."
When is the best time to sail in Polynesia?
""It is possible to sail in Polynesia all year round. That's why we have a crazy number of sailing champions out of only 250,000 inhabitants, because we can train all year round. After that, there is a better sailing season: from April to October. That's the dry season. But you can have a wonderful week in December or January, in the middle of the rainy season.
What's next for Sail Tahiti in the months to come?
"On the sailing side, we've grown a lot, because at the beginning we only did Seawind and Excess. Now we offer Beneteau, with a real range of cruising monohulls, and Neel. We go from trimaran to monohull. We also offer Rapido, which are racing trimarans "toned down" for ocean cruising. And since 2023, we have developed our motorboat activity. We will also be launching a boat club in the coming months.."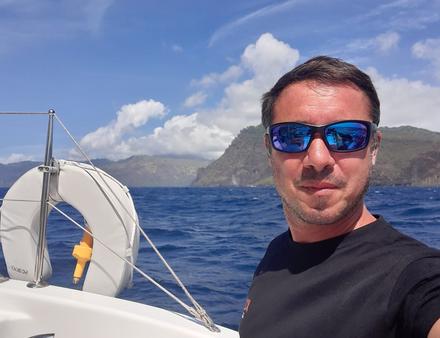 David Allouch, founder of Sail Tahiti